How are semesters used in Qwickly?
Semesters are used by Qwickly to group classes together, particularly for reporting purposes in Attendance Pro.
How can I modify my semesters in Qwickly?
To access semester settings, please go to www.qwickly.tools > Manage Instances > Your Instance's Attendance Settings > Settings
Select Current Semester: The semester that has been chosen as the "current semester" is the first option the instructors of a course will see when they are setting up their courses.
Click Semester Manager

Add New Semester: Add a semester that your courses will be able to select when configuring their courses. You can give your semester a name, a code, a start and an end date. The example semester has been configured with the name "Fall 2018", the code "FA2018", the start date 2018-10-01 to 2018-10-31.
Delete Selected Semester: If you click on the trash bin logo next to the selected semester, that semester will be deleted.
Edit Selected Semester: Edit the name, code, start and end dates.
How are Semesters assigned to a Course?
Once you have set up your semesters in Attendance's System Settings, they should appear in courses. In Course Settings, the semester can be selected: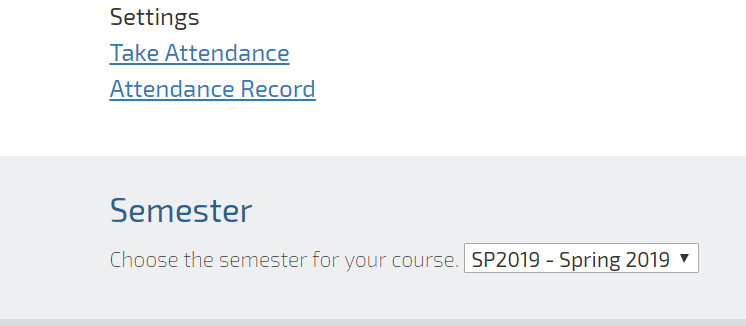 Attendance Pro users will also have a management console from which they can oversee and update their instance's course semesters. More information can be found here.
Bulk Updating Course Semesters
Admins can bulk update course semesters through these steps: https://qwickly.zendesk.com/hc/en-us/articles/360047081072-Qwickly-Attendance-Pro-Bulk-Update-Course-Semesters