Qwickly Attendance LTI will be modifying the workflow of User Activity mode to address some issues being faced.
Previous Workflow and Concerns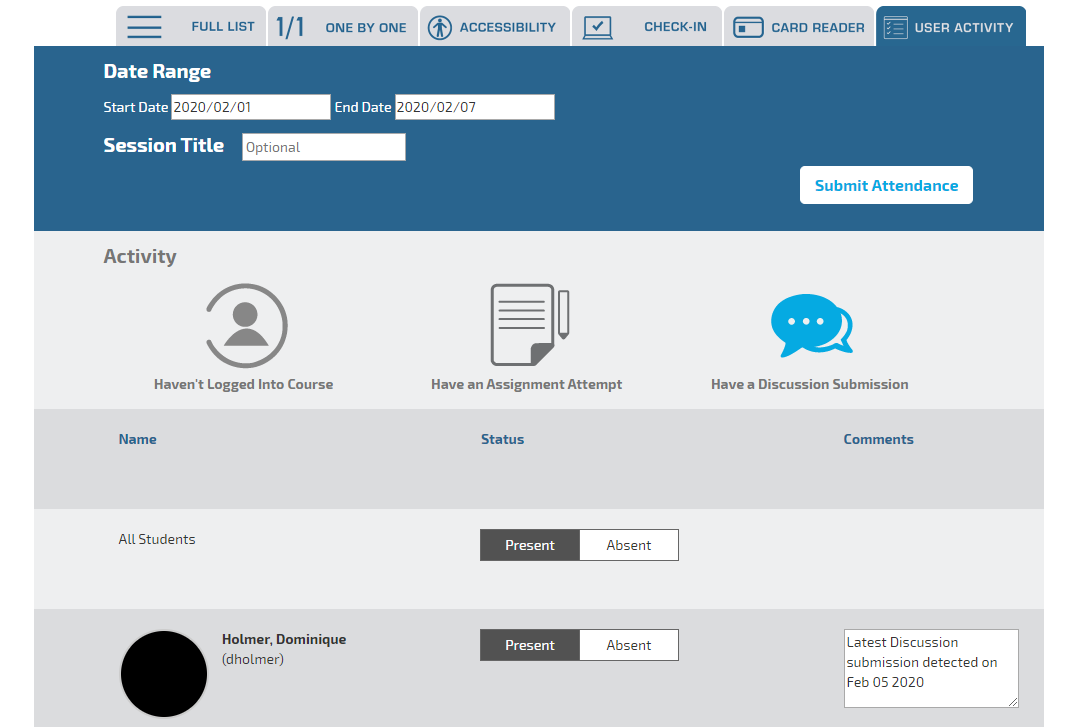 Previously, when an activity was selected, Attendance would be attempting to lookup all attempts found for any of the selected type of activities. For example: The screenshot above shows that a user selected "Have a Discussion Submission" for the date range "2020/02/01" to "2020/02/07". This would trigger Attendance to retrieve grade center items that are of type "Graded Discussion" and lookup Attempts that fall within the selected date range.
This workflow presented certain issues while beta testing. The major concern stemmed from the fact that activities which had been made unavailable in the course were causing API lookup issues. The API call to look up attempts for such activities were timing out without giving any responses back to our tool. So, it was causing the tool to stall at random times without any indication of what may have happened.
New Workflow Addressing this Issue
The new User Activity workflow presents more options for the user, including the ability to lookup activities of a certain type, and to lookup attempts for users based on specific Activities. The second screenshot illustrates some of the changes. In the second example: a user who selects "Have a Discussion Submission" for the date range "2020/02/01" to "2020/02/20" would see a list of discussion topics that Attendance was able to find from the grade center. The user would then be able to click on the specific activity which would trigger look-ups of attempts for that activity. If the tool detects an attempt for one of the selected activities, the tool will now also add the specific activity name to the comment.
This should ideally allow our users to be more specific with their look-ups and detect which activities cannot be looked up if we do not get any responses back from it.