Qwickly Attendance LTI allows instructors to take attendance for select groups or sections of students in a course if it has been set up in such a way.
This can be enabled by navigating to www.qwickly.tools > Manage Instances > Your Instance's Attendance settings. Here, the setting labeled "Group and Section Integration" can be enabled. Once done, the settings need to be saved.
Once this has been done, the Attendance tool will allow an instructor to change their attendance taking mode in a course if groups or sections are detected. In the course's settings, there will be a new setting labeled "Student Grouping" which can allow you to take Attendance by groups or sections.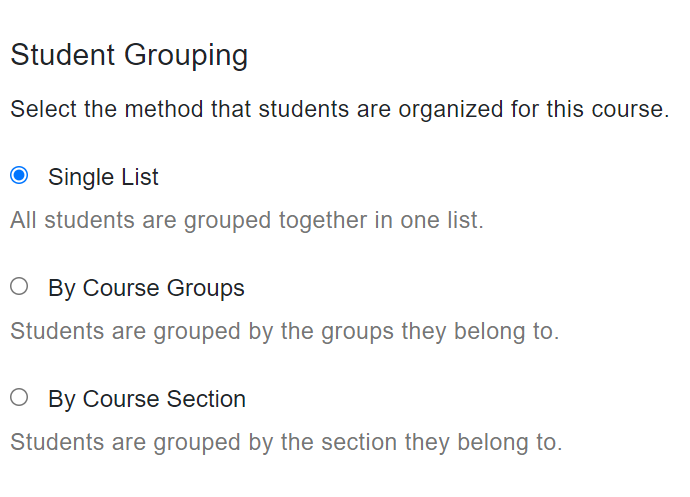 Once the desired Student grouping option is selected, the settings need to be saved.
Back in the "Take Attendance" screen, there will be a new drop-down for groups or sections. The desired group/section for which Attendance needs to be taken can be selected. This will change the roster and only show users who are part of the selected grouping and take Attendance just for them.
NOTE: If taking Attendance by Check-In mode or Card Reader mode, only one group/section can run at a time!
If a course uses Attendance by Groups/Sections, they will also be able to filter the records in the "Attendance Record" page by groups or sections. By default, they will be shown the sessions and records for "All Students" which shows all Attendance data taken for the course so far.

Instructors can filter this data down by selecting a particular section from the panel.
You can also click on the Attendance session names in the top column of the table to bring up that session's detail, which should contain the name of the section it is connected to.
Why can I not select "Per Session" grading option if I am taking Attendance by Groups or Sections?
Qwickly Attendance is not designed to push grade book columns out for each individual attendance session that has been taken. It is designed to post the total calculated grades in a course for each user in one single Attendance column. For this reason, the tool needs to calculate a total points possible for the course based on how many sessions it has taken so far, in order to provide that value to the grade center column created by Attendance.
For courses taking Attendance by groups or sections, there may be groups/sections that have more attendance sessions taken than others. For these groups or sections, we cannot have a single total points calculated per session, since the number of sessions will be different. For this reason, only a pre-defined "Total Points" can be used for courses taking Attendance by groups or sections.