Qwickly Attendance Plus will allow Institutions the ability to allow their instructors to pre-create Attendance sessions using a course schedule. Furthermore, Institutions may also allow instructors the ability to bulk delete pre-created sessions in their course if an incorrect Course Schedule has been applied.
Schedule Sessions for Courses at System Level
System Administrators can bulk created scheduled sessions for their courses by following these steps.
Schedule Sessions at a Course level
First, the System Admin can go to the Attendance Settings page (www.qwickly.tools > Manage Instances > Your Instance's Attendance Settings > Preferences). They can find the pertinent settings under the section "Preferences":

Enabling this setting will enable a new section in a course's settings screen for Attendance:

Clicking on Add Sessions will produce the following pop-up. Instructors can use this interface to add the start date and end date for their courses, as well as the days of the week where they meet. Once the schedule has been entered, it can be created by clicking on "Create".
The pre-created sessions can be viewed through the "Attendance Record" screen. The scheduled sessions will be highlighted in a light orange color. They will have no records:
Take Attendance for a Scheduled Session
When an instructor opens Attendance in a course on the same day where a session has been scheduled, the tool would automatically select the scheduled session for attendance taking for that day.
In the example screenshot below, an Instructor is attempting to take attendance on October 13. Since there is already a scheduled session for October 13, the tool auto-selects this session for Attendance taking:
Once attendance has been taken for this session, in the "Attendance Records" screen, the session display should change from being a scheduled session to a live session as below: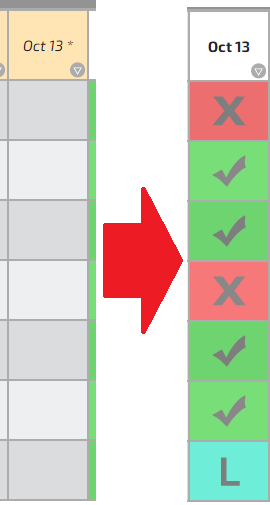 NOTE: If Instructors have gone into the "Attendance Records" screen to directly add records into a scheduled session without taking Attendance through the "Take Attendance" screen, the records will not be accounted for in a student's absence, percentage, or grade totals.
In order to have these records counted towards the totals, a user would need to open the session details, click on "Update Totals". Once this is done, this session's records will count towards the absence, percentage, or grade totals.
You cannot "Update Totals" on a scheduled session with a future date.