Qwickly Attendance allows Instructors to set a timer for a check in attendance session. This can be set up in the settings.

How does the timer work?
When running the check in session, this timer will be displayed on the instructor screen. When the timer counts down to 00:00, the session will automatically close.
Why does it look like my session lasted longer than the timer?
Some users may notice that their check in sessions may have ended much later than their timer was set to end the session. (Example screenshot below)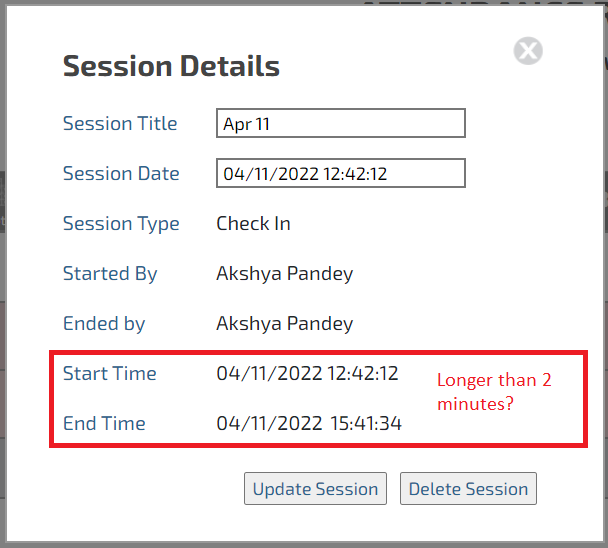 This happens when the instructor closes the browser window before the timer has reached 00:00.
If the browser window is closed before the timer has reached 00:00, then the session will close the next time the browser window is opened. The timer does not turn off the session in the background since it is a frontend based engine.
However, it is important to note that even if the session isn't shut off, students will not be able to check in to a session if the timer period has already elapsed.
If this is an issue, it is suggested that users let Qwickly Attendance run in a browser window until the timer finishes. Users can minimize the browser window, they should simply avoid closing the browser window that has Qwickly Attendance open.