ATTENDANCE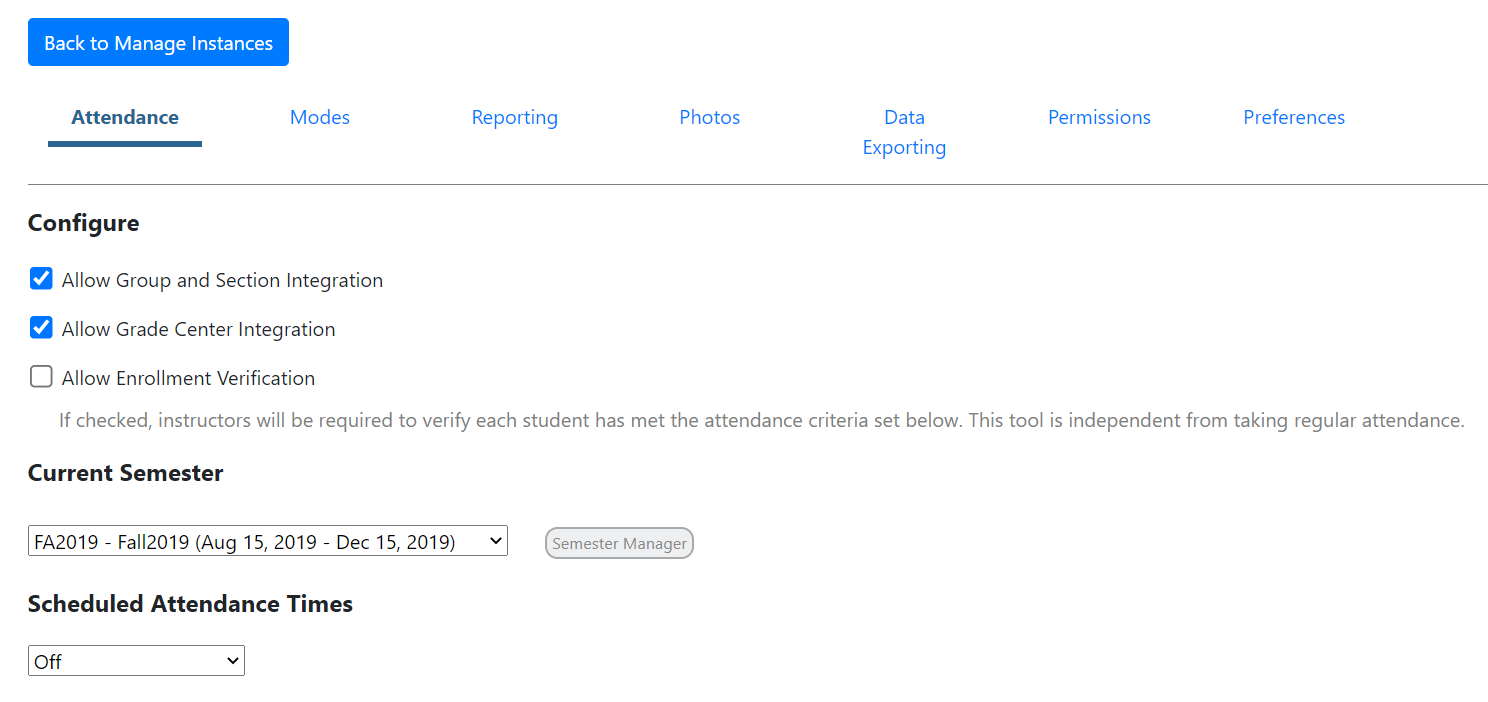 Allow Group and Section Integration: Allows instructors to take attendance by groups or sections in a course

Allow Grade Center Integration: Instructors can choose to push Attendance Grades to the gradebook or grade center

Allow Enrollment Verification (Pro license): This allows the institution to set up enrollment verification for financial aid or other reasons

Current Semester: The semester that has been chosen as the "current semester" is the first option the instructors of a course will see when they are setting up their courses

Semester Manager: Add Semester: Add a semester that your courses will be able to select when configuring their courses. You can give your semester a name, a code, a start and an end date. The example semester has been configured with the name "Fall 2018", the code "FA2018", the start date 2018-10-01 to 2018-10-31.
Delete Selected Semester: If you click on the trash bin logo next to a semester, that semester will be deleted

Scheduled Attendance Times: This allows for either a selection of system-level settings or course-level settings (instructor) options for check in mode, duration, and other variables.
Absence Email Template: The default absence email template. The given variables (if used) will be replaced by their actual values when sending emails
User Default for all absence emails: If this is selected, all absence emails sent from your institution will follow the default template defined in the previous setting.
Order: The order in which the statuses appear when listed in a course

Name: The name of the status
Points: The percentage value of the points this status is worth
Absence: The percentage value of the absence this status is worth
Color: The color assigned to the status
Show: Toggle if the status is shown in courses
Delete: Remove a custom-made status
Add status: Add a new custom-made status

Allow Absence Email: Instructors can choose to send emails to students marked absent in their courses.
MODES
Select Attendance Mode: Pick the method of Attendance taking for your scheduled session

Allow Student Check In: Instructors can use Check-In Mode to take Attendance in their course

Allow User Activity Mode: This enables the Online User Activity Mode of Attendance taking (requires an Attendance Pro license to be enabled)

Enable Location Context: Location Context gives instructors the ability to mark students as "In-person" or "Remote" in addition to the usual attendance statuses they use. This mode is useful for contact tracing purposes and for institutions that are operating with a hybrid class structure.

Card Reader Support On/Off: Toggle Card Reader mode for your instance
REPORTING
1. See https://qwickly.zendesk.com/hc/en-us/articles/360022215651-Qwickly-Attendance-Pro-Reporting-Setup-Overview
PHOTOS
Photostore Integration On/Off: Toggle Photostore Integration for your instance
Photostore URL: Set the URL from which photos will be accessed. Include any necessary webservice keys and place '[identifier]' where the student identifier should appear.
Student Identifier: Set the field used for identifying students. This value will be appended to the above URL when requesting photos.
Optional Encryption: No default encryptions currently supported in Attendance LTI. if you would like more information on this field, please contact Qwickly.
Test Image: If correctly configured, this field uses the Photostore URL and Student Identifier to display an image to let you know your configuration is accurate.
DATA EXPORTING
Full Export: This allows you to download all the attendance data from your instance. There is also a static URL link (found in the Link to Download) which downloads the export file directly. A Course Code can be entered to filter the download by specific courses.
Starfish Export: This download is similar to the full export but reformatted to produce a file that is formatted for importing to Starfish retention products.
PERMISSIONS
Allow Instructors to Customize Statuses: Allows instructors to create course-specific statuses

Restrict Attendance Taking to One session per day: If enabled, only one session can be taken in a day for Attendance

Allow Each Course Section to create a session each day: If the "Restrict Attendance Taking to One session per day" is enabled, this setting can be enabled to allow courses with multiple sections to each take attendance once per day per section

Configure Course Roles that Can Use Attendance: Add custom Instructor-level roles or Student-level roles which can use the Attendance tool
PREFERENCES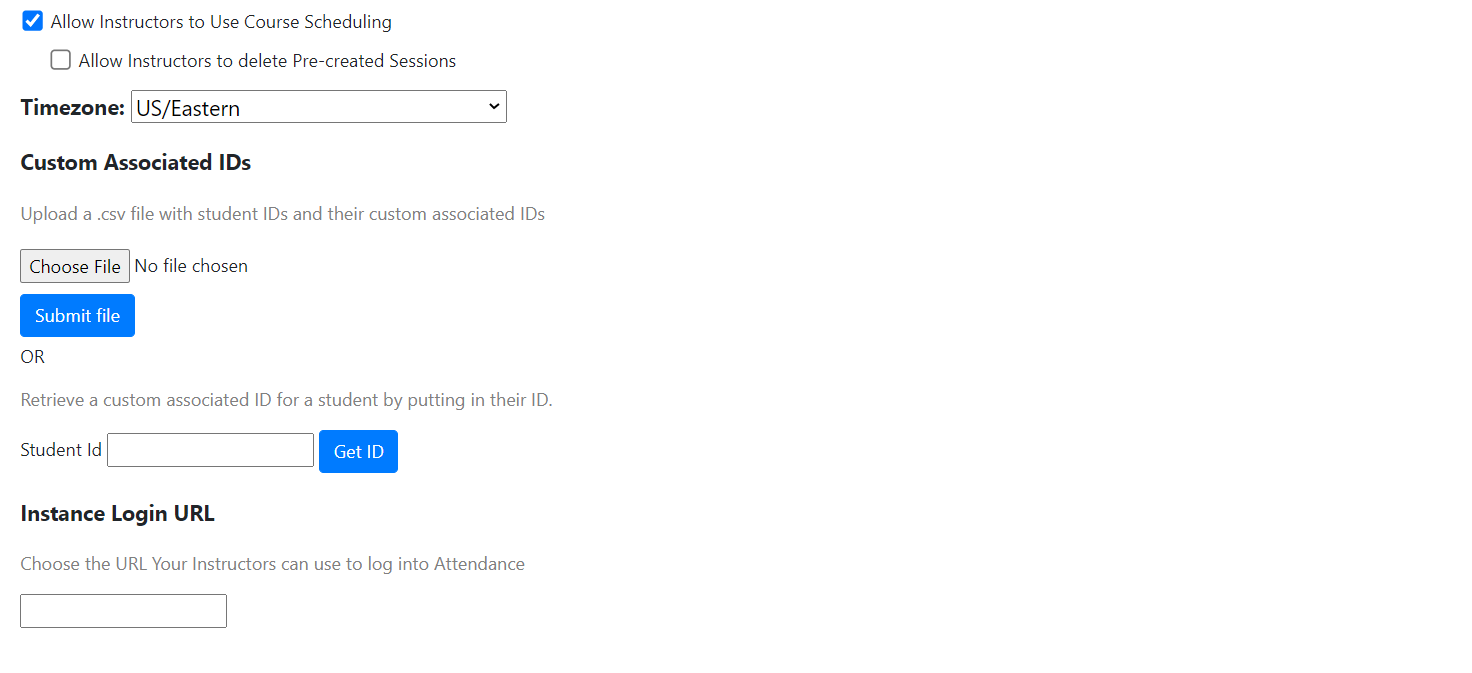 Show 'Other Name' Beside Student Name: Display the "Other Name" field next to student names in the Attendance tool (This feature is Blackboard only).

Cache Student Data with Qwickly: Qwickly will save user information such as name, username, etc. By default, Attendance LTI gets all its data via REST APIs and saves no user values. Enabling Data storage with Qwickly allows up to save the data obtained via REST APIs allowing for quick retrieval in the future and enhances the performance of the tool. More information on this setting can be found here.

Alternate Identifier On/Off: Use an alternate identifier for your instance's card reader attendance. The default identifier (when Alternate Identifier is turned off) is the SIS ID.

Alternate Identifier Values: A list of potential alternate identifier values.
The instance is mobile-enabled: This allows for students to easily access the check-in screens on mobile devices.

Hide Attendance Screen for Students: Students will not be able to open Qwickly Attendance if this setting is enabled

Capture Student's Course Sections: Enabling this setting stores a user's section data for Qwickly (This is used for Attendance Pro's Data Feed Reporting)
Track IP Address when students check-in: This records the students check-in IP address.
Select a timezone: Select your timezone which the Attendance record dates will be based on.
Manage Custom Associated IDs for students: Instructors can assign an ID for each individual student which can be used as an alternate identifier, especially for Card Reader mode.
Instance URL Name: Assign a unique keyword to get a unique URL, which your instructors can then navigate to to log into Qwickly Attendance.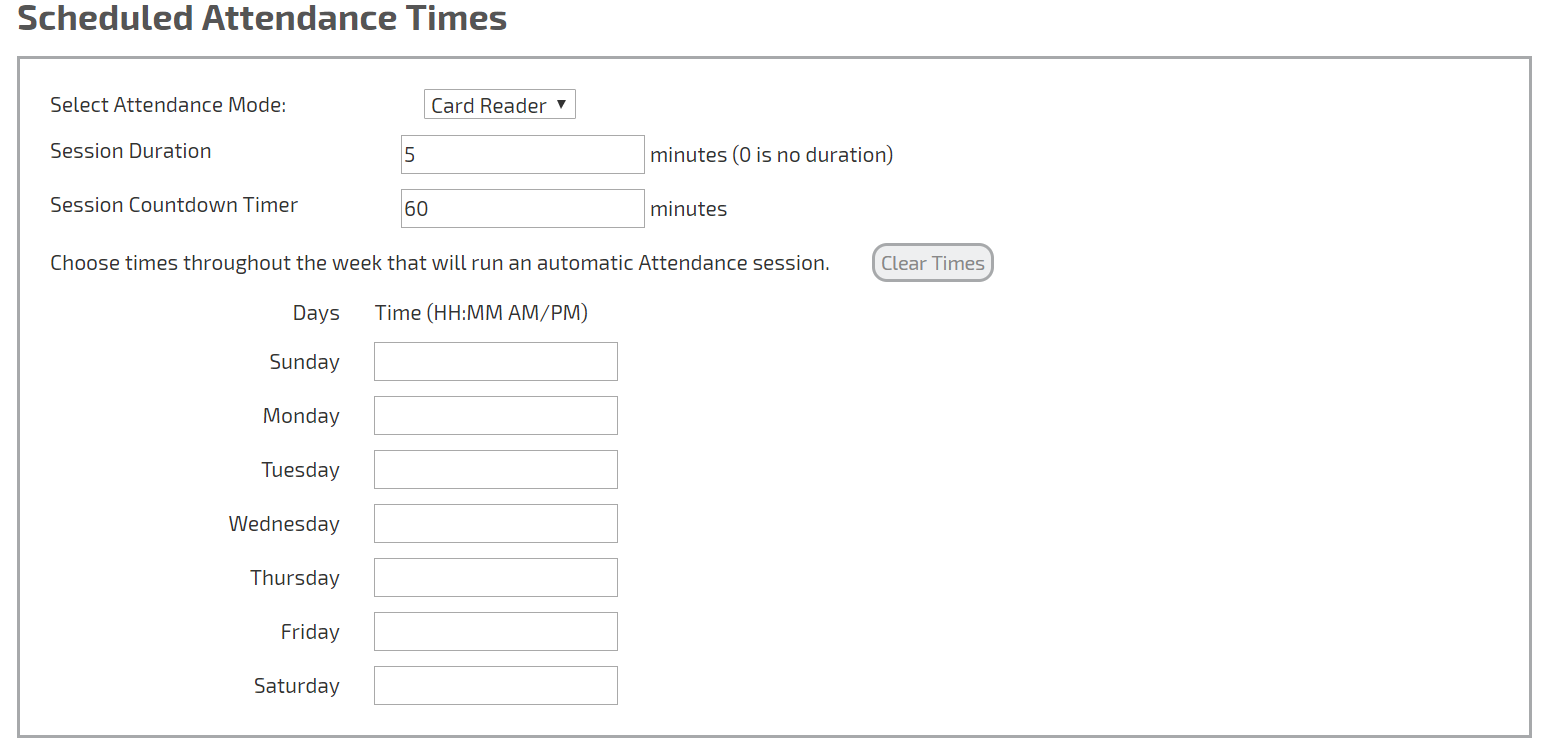 Session Duration: Duration (in minutes) of the scheduled attendance session.
Session Countdown Timer: Time length (in minutes) before a scheduled session after which a user will see a message notifying them of an upcoming scheduled session